FAQs
What is Album Parrot?
An online album proofing tool that integrates galleries. We make it easy for your client to leave feedback quickly and easy. Albums can also be converted into APPs for tablets and phones.
What online galleries can one use with Album Parrot?
Currently we support ShootProof, Zenfolio, Smugmug, Instaproofs and Pixieset.
How does Album Parrot fit into the album workflow for a professional photographer?

In the picture you can see the green boxes which shows what we support in the workflow of creating an album. For designing an album there are plenty of tools that one can use - SmartAlbums, Fundy Designer, Rapid Album Designer or Photojunction. They all offer some kind of proofing tool but none of them integrates the box on top - the gallery. The final step is a relatively new one - it allows you to convert your album design into an App that can be used on a mobile phone or tablet.This is fully supported by us.
What exactly does it mean that a client can leave feedback "quickly and easy"?
We have integrated your albums spreads and gallery into one window. The user does not need to jump between windows anymore. They also do not need to write down file names anymore since they can drag 'n' drop the photo onto the spread - the file name will automatically be noted. No emails need to be written as they can send all comments with the click of a button.
I saw you can create an App - what does this mean?
With your images you can create an App that your client can install to their mobile device or tablet. Each installed app will have a direct link to your contact details. The user can share the app with friends and family which is the strongest marketing technique that exists - word of mouth (more about this on the blog: word of mouth
How do I replace an existing spread?
Go to your proof inside the dashboard and then for the spread you would like to replace you click the following icon: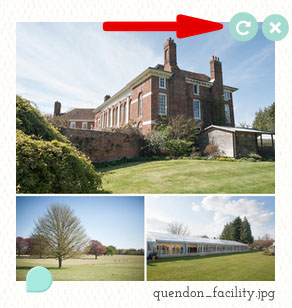 Can people view the albums offline?
Yes. The first time they view the album it is recommended they are on a network as all the photos are being downloaded. But cellular network works as well of course.
How does this help my business?
The most powerful marketing is "word of mouth". In other words, your customers raving about your pictures. This enables your clients to get easy access to your photos and also share it with them.
How many images can I include in an album?
We are limited to 50mb per album - this is not because of us but rather a restriction from apple. Therefore we recommend an album to contain around 20-40 images. This allows you to show your absolute best work and keep the application running quicker.